Perforated Sheet Metal for A Range of Applications Including Metal Art
Perforated sheet metal is abundant in today's world. It has an almost unlimited number of applications, ranging from noise reduction to climate control. It is a popular material all over the world, and most often, is made of stainless steel, cold-rolled steel, aluminium, and a range of other metals. Typically we are contacted to perforate aluminium sheets or to create steel perforated sheets.
Perforated sheet metal refers to a layer of metal with a series of holes or patterns punched into it by a machine. Commonly made from steel and aluminium, perforated sheet metal has a wide range of uses and applications. From industrial machines to metal art for community installations we can do it all.
Around 150 years ago, perforated sheet metal was invented for the mining industry as a technique of screening coal. The method was inefficient in its early stages, requiring labourers to manually punch holes in the metal sheet. This time-consuming and labour-intensive process, therefore, meant that perforated metal was not being utilised to its maximum capacity – there simply wasn't enough of it.
Most people will come across some form of perforated sheeting or perforated screening throughout their day. It is all around us now that it can be so easily and efficiently produced. It has numerous advantages, ranging from aesthetics to usability. Perforated sheet metal is used in a variety of applications including residential and commercial locations.
Here at Acorn Metal, our focus is on creating high-quality designs for our customers, which we do by offering a huge variety of perforated patterns to choose from. Our precise machinery in conjunction with our 3D software can punch up to 5mm thick, meaning we can create perforated sheeting for any requirement. From practical functions to metal art displays, there are unlimited ways in which perforated metal can be put to use.
Applications for Perforated Sheet Metal
Sound Proofing
Perforated sheet metal can be a visually pleasing answer to typical acoustic problems. Adding a layer of perforated sheeting to a room can help to scatter, absorb, or reflect sound and cut out certain frequencies, depending on the requirement. It's commonly used for effective noise control in offices, leisure centres, as well as stadiums and loud industrial environments.
Filtration
Perforated sheet metal filtration is a strong and effective way to keep systems clean, with first-class products built to withstand pressure. Utilise filtering screens, tubes, and strainers to create cleaner air with exhaust systems, strain certain fluids and gases with dewatering filters, and keep debris out of unwanted places in machinery. All industries, automotive to mining, have a need for perforated sheet metal filtration products.
Lighting Fixtures
The perfect way to reduce the glare from a light source is to install a stylish perforated screen light cover or diffuser. They control the direction and quantity of light emitted while still allowing ventilation in an aesthetically pleasing way. With a massive selection of patterns to choose from, creating your unique lighting fixture is easy with Acorn Metal.
Decorative Use in Homes
Thanks to its lightweight yet durable qualities, perforated sheet metal designs are a perfect addition to your home. As perforated sheeting can take on any shape it has unlimited uses on walls, ceilings and floors. Choose a custom privacy screen, light fixture, stairwell, or seat with a unique sheet metal design pattern that will provide ventilation, as well as sound absorption.
Security
By using quality materials like stainless steel to create perforated sheet metal designs, Acorn Metal can guarantee the durability and longevity of its security-focused products for doors, walls and ceilings. Metal screens and guards become aesthetically pleasing with a unique perforated design and can divide up space while still allowing air, light, and sound to carry through.
Pharmaceutical/Medical
The healthcare and scientific industries have high standards, and require precise designs made from quality materials; from storage of products small and large, to container trays and pans, as well as room organisation with racks and cabinets. The options are endless.
Here at Acorn Metal, our highly skilled team is on hand to combine their wealth of experience with the latest technology to create custom perforated sheet metal designs for each of our customers. Our large machines can do long lengths, up to 1500mm wide, and come in a huge range of patterns. From CNC Turret Punching [insert link] to the digital solution of Image2punch [insert link], we have the modern solution to your needs. So if you want to learn more about how Acorn Metal can provide a lightweight, durable solution to your problem, contact us today!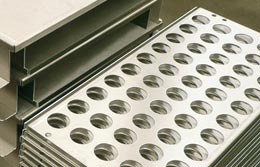 Call one of our expert team members today on 08 9248 8888 to discuss your requirements and arrange for a free quote.