A Stunning Metal Fabrication That Looks Like an Enormous Raindrop
Acorn Metal often collaborates with artists and other trade providers to create amazing projects. Droplet is a perfect example. Located in the heart of Canberra, Droplet is a major public artwork on the street corner of Woden in the ACT. For thousands of office workers and users of the city's streets, Droplet is a familiar and comforting sight during the day and at night as well.
An Innovative and Artistic Design
At 6m tall and 3m wide the Droplet was designed to resemble the shape of a giant raindrop and sits at a slight angle to reinforce its heavy presence. It is made up of several stainless steel pleats each perforated in-house at Acorn Metal to create a decorative and aesthetically pleasing pattern. These polished stainless steel pleats are reflective to create an appearance that mimics the fluidity of water. The closer the viewer gets to the Droplet the more of its complexity they are able to see.
Lights and Patterns
During the day, city-goers can take in the glittering, intricate patterns as the sun shines on them but then at night they get a completely different view. There are 48 powerful LED lights within the stainless steel structures that create beautiful patterns. These flexible, high-powered and compact LED lights were chosen for their intensity and their ability to create dynamic light patterns. They are programmed to run in a colour-changing sequence with a smooth fade between each colour. Every 5 minutes the sequence begins again.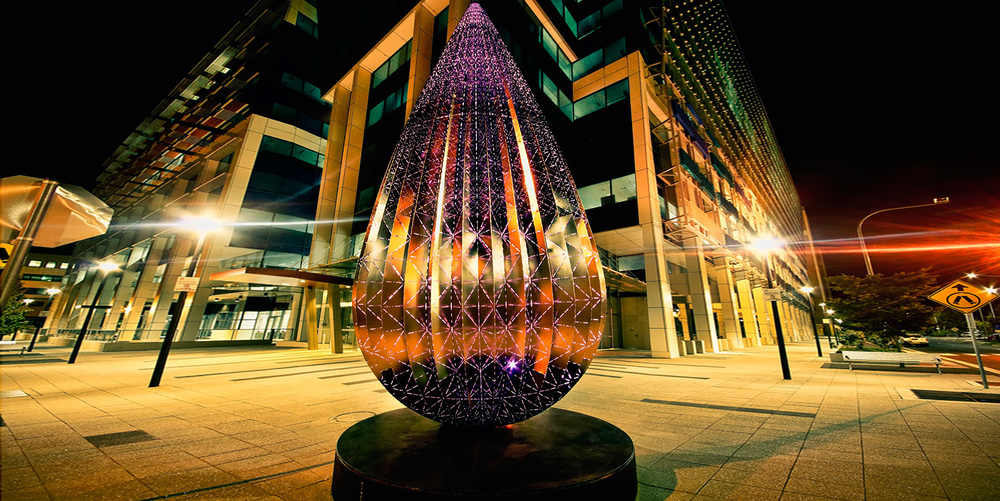 Intricate Metal Fabrication
Acorn Metal was provided designs by artist Stuart Green who was able to create a majority of the Droplet structure. We utilised our CNC Machines to perforate 316 marine grade stainless steel with all the required patterns. They were then sent off to a third party to be laser cut. We also utilised our sheet metal bending machines to create some of the internal components for the support structure as per Stuart Green's design.
The piece was then sent back to Stuart Greens' team so that the stainless steel could be finished and polished to ensure it was as reflective as possible.
This was a huge project for Acorn Metal that we undertook back in 2012. To this day the Droplet still stands regally in Woden Town Square and is admired by thousands of citizens daily. For more information on our services and how we utilise them to create projects like Droplet contact us today!