The Latest in CNC Machining Turret Punch Technology
Acorn Metal Products only carry out our services using the latest and best technologies. We are also committed to precision which is why we use state of the art CNC machines along with our experienced operatives.
CNC stands for computer numerical control and refers to the process of materials being cut via a computer-aided machine. Our CNC machines interpret computer-aided design (or CAD) data and work their magic.
The CNC machines we use are versatile and can handle a vast range of production sizes. Our large machines can do long lengths, up to 1500mm wide, and can turret punch in a huge range of patterns. At Acorn Metal Products we consistently maintain and upgrade our CNC machines to ensure maximum dependability and performance.
The CNC machine's precision makes it a very valuable and crucial tool for metalworkers. The CNC method is a quick and low-cost way of producing goods that require exact shape changes. For precise shapes and designs contact Acorn Metal now!
CNC Turret Punching
If you are looking for expert, high-speed CNC machine turret punching services for a wide range of manufactured products, you are in the right place with our experienced team here at Acorn Metal Products. Our Finn-Power CNC turret punch machines produce high speed and accurate repetitive metal punching for quality and precision components.
We have a large range of tooling options and further specialised tooling can be obtained to punch and form to your specific requirements if necessary. We have invested in the best CNC machines, tools, equipment, and resources to ensure that your products are made to the highest possible standards of workmanship and finish.
For metal forming and perforating, turret punching by CNC is employed. Our CNC Turret Punch machines can facilitate a range of processes including; punching, nibbling, embossing, piercing, slotting, recessing, louvring, extruding, and coining. Turret punching can be used to treat a wide range of sheet metal components with thicknesses ranging from.5mm to 5mm. It enables the punching of metals into countless 2D shapes.
With capacities of 3000mm x 1500mm, up to 5mm gauge sheet size in Aluminium and 3mm gauge sheet size in Mild and Stainless Steel, we have the facilities for any turret punching that your project needs.
We can advise you on your best, most cost-effective options and our expert, friendly team are happy to discuss your CNC machining requirements. Our turret punching facilities are available for a diverse range of applications, so contact us today and discover the difference that our highly skilled team can make.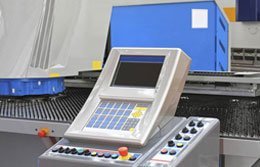 View Our Other CNC Machining Services Below: