Powder Coating & Metal Painting Services From The Surface Finishing Experts
For our dedicated team of fabrication and metal manufacturing experts, the quality of our finished products is a matter of pride, and we gain a great deal of satisfaction from achieving the best possible results every time. All of our processes undergo rigorous quality checks every step of the way, and we have invested in latest the equipment needed to produce the results that you desire.
Along with our powder coating and metal painting services we have the capacity to de-burr small stainless steel and aluminium components leaving them immaculately finished and ready for service. When it comes to consistently producing top quality results for our customers, we appreciate that it's the details that count. That is why we can ensure perfect results almost every time.
Powder Coating
Powder Coating is a simple process where a powdered paint compound is applied to a metal surface that needs finishing. The compound is applied through electrostatic spray deposition. To make a lasting layer, the dry, powdered paint melted under heat and then cured.
Powder coating provides a protective finish that resists corrosion, abrasion, and discolouration while also withstanding extreme temperatures. Acorn Metal Products can provide powder coating in a large range of customised colours and textures.
Due to its excellent protection capabilities against moisture, chemicals, ultraviolet light, and other adverse weather conditions, powder coating has become one of the most popular solutions for a high-quality, long-lasting metal finishing in commercial and industrial applications.
Powder coating protects the most abrasive machines as well as common household goods. It has a longer-lasting finish than liquid paints without compromising on aesthetic appeal. In fact, the average person would have a difficult time distinguishing between a spray-painted or a powder-coated appearance. Powder coating, in comparison to any liquid paint, also has environmental benefits in addition to its durability.
Metal Painting
Metal painting improves the aesthetics of any component or final product while also increasing its market value. More importantly, it is one of the most effective ways to protect your metal items from corrosive agents and harsh environments.
Painting a metal surface helps to reduce the corrosion-causing effects of moisture and oxygen in the atmosphere. As a result, the painting creates a barrier that protects the product's surface from practically any chemical reaction or physical touch.
The team at Acorn Metal can also provide industrial and commercial metal painting services to our clients. We use tried and tested metal painting methods to ensure that all products are prepared and painted to the highest standard. We can also provide specialised painting applications and ensure that the appropriate paint is applied to satisfy the requirements of any pertinent environmental conditions.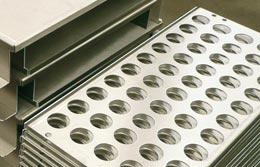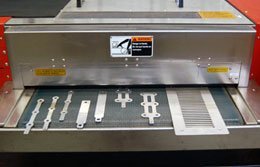 Surface Finishing to the Highest Standard
Our meticulous attention to detail is yet another indicator of the high standards that we pursue in every aspect of the goods and services we provide. We believe that if a job is worth doing at all, it is worth doing well. That is why everything that makes it out of our factory doors is of the same exacting standards of quality and finish. Contact one of our helpful team members today on 08 9248 8888 for more information concerning our expert surface finishing for your components.
Contact one of our helpful team members today on 08 9248 8888 for more information concerning our expert surface finishing for your components.