When it comes to the equipment that is needed to get your products manufactured accurately and efficiently, we have everything required here in our extensively equipped metal workshop. From benders and formers to turret punches and fastener inserters, we have invested in the best so that the results cost you less.
Metal Turret Punching Equipment in Perth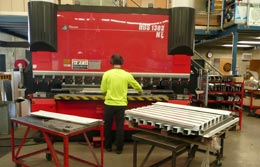 Amada CNC controlled benders
Our Amada CNC-controlled benders have the highest precision and accuracy for repetitive manufacturing with a large range of segmented tooling. At Acorn Metal Products, CNC bending is delivered accurately to your specifications.
Amada HDS 8025NT – 80 tonne x 2600mm (8 Axis with Automatic Hybrid Crowning)

Amada HDS 1303NT – 130 tonne x 3200mm (8 Axis with Automatic Hybrid Crowning)

Finn-Power turret punches
We use the Finn-Power C6 Compact Express with automatic sheet loading facilities and brush tables for metal turret punching.
3000mm x 1500mm up to 6mm thick sheet size

30-tonne capacity

Seven auto-index stations

Two up-forming stations

Finn-Power F5 turret punch with brush tables
3000mm x 1200mm up to 6mm thick sheet size

30-tonne capacity

Five auto-index stations

Amada DB610 de-burring machine
We have the capacity to de-burr small stainless steel and aluminium components.
Amada Togu III automatic grinding machine
In-house tool grinder to keep all tooling at optimum level.
Haeger fastener insertion machine
With our Haeger fastener insertion machine, we have the technology for the insertion of all types and sizes of self-clinching fasteners.
Call Perth's most equipped metal workshop now on 08 9248 8888.