Beautifully Fabricated Pieces Combined to Create an Aurora Borealis Effect
Art installations are designed and created all over Australia to enrich communities and create pieces that inspire and comfort citizens who see them. The subiaco strand installation is no exception. This was an enormous undertaking that produced one of the largest art pieces Acorn Metal have ever worked on. At 45m in length with 90 cables housing over 2000 LED lights on 13m, long strings the Aurora Artwork completely transformed the Strand Apartments in Subiaco.
High-End Apartment Living
Subiaco has long been a sought after location to live in. With a train station nearby and plenty of attractions, food and nightlife right on your doorstep, it's no wonder people want to live there. The Subi Strand apartments were created in 2015 to provide a beautifully landscaped laneway with both residential and commercial tenancies on either side. Pedestrians and residents can walk this laneway with its beautiful facilities on either side of them.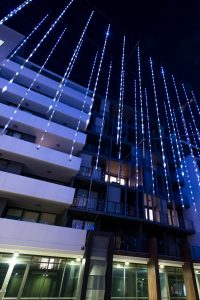 Enhancing the Community With Art
The Strand apartments create a large walkway that was perfect for the Aurora Artwork installation. Seeing as this area sees quite a lot of foot traffic at night the area needed to be well lit. To create a unique and inviting ambience the Aurora was designed. 90 strands were created each housing 26 individual LED nodes spanning 13m. Combined there are more than 2,000 lights and they are programmed to create colour graduation that flows and emulates the Aurora Borealis phenomenon.

 Collaboration
It took several different businesses and experts to create this amazing artwork. Stuart Green created the breathtaking design and Acorn Metal as well as other suppliers helped to bring that design to life. Acorn Metal loves collaborating with artists and other manufacturers to create the best product possible.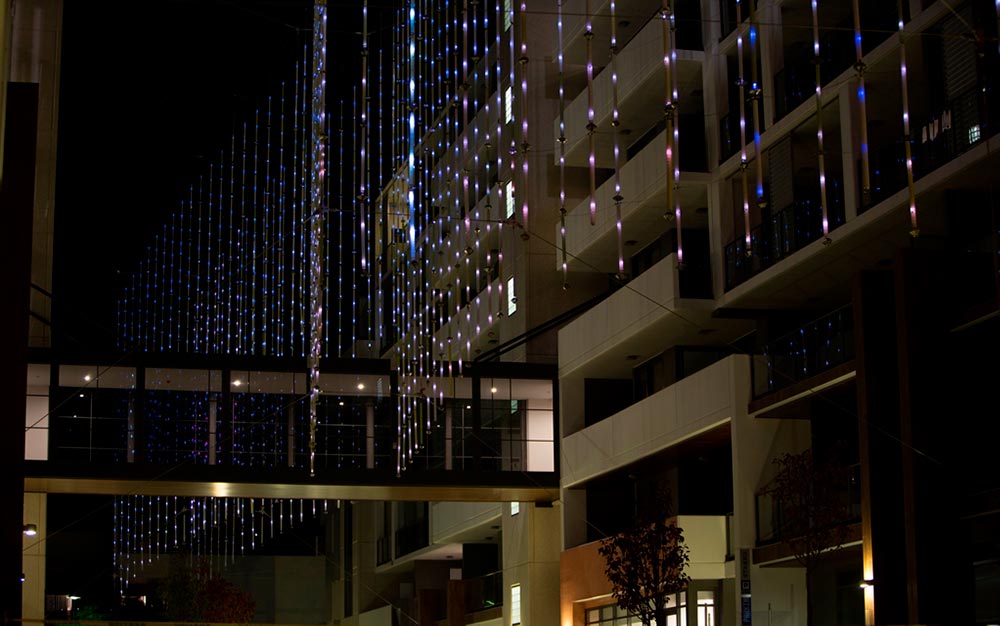 Intricate Metal Fabrication
During our collaboration with Stuart Green and others, we assisted in the creation of the Aurora artwork by manufacturing and perfecting several of the components of the artwork. Small octagonal spheres, as well as cylindrical light tubes, were used in the artwork and these were fabricated and manufactured by Acorn Metal using our high-quality machines.
Special joints that our team strategically weakened were utilised on the octagonal spheres. This allowed a third-party manufacturer to intricately bend the sections into the required shape as most sheet metal bending machines are not capable of doing this. There are virtually no conventional tools with this capability so we had to come up with unique solutions and pre-weakening the joints to be bent by hand was how we did this.
Acorn Metal is proud to collaborate with local artists and manufacturers and helping to create the Aurora Artwork in the Subiaco Strand apartments was no exception. The final product turned out amazing! For more information on our services and how we helped to create this exceptional artwork contact us today!