There may be numerous reasons why our clients will need us to provide metal perforating services of some kind or another. From functional components to decorative metal items, metal perforating has a range of uses. The important factor, of course, as with all of our processes, is accuracy, and that is where our state-of-the-art equipment comes into the equation.
Experts in metal perforating
Here at Acorn Metal Products, we have the technology and experience to provide a full range of custom manufactured perforated products to meet your requirement. Our custom sheets can be produced with borders and fixing holes for easy and fast installation on-site. Thanks to our comprehensive range of tooling, you are assured of the highest standards of quality and accuracy when it comes to the installation of your perforated products.
Cost-effective metal perforating
Whatever your metal perforating requirements are, our highly skilled and innovative team are sure to have the ideal solution to suit your specific requirements. Contact one of our friendly and expert advisers today to discover how our efficient and cost-effective metal perforating services can benefit you or your business.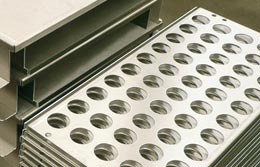 CNC Turret Punching
If you are looking for expert, high-speed turret punching services for a wide range of manufactured products, you are in the right place with the team here at Acorn Metal Products. Our Finn-Power CNC turret punches produce high speed and accurate repetitive metal punching for quality and precision components.
We have a large range of tooling options and further specialised tooling can be obtained to punch and form to your specific requirements if necessary. We have invested in the best tools, equipment, and resources to ensure that your products are made to the highest possible standards of workmanship and finish.
With capacities of 3000mm x 1500mm, up to 5mm gauge sheet size in Aluminium and 3mm gauge sheet size in Mild and Stainless Steel, we have the facilities that your project needs.
We can advise you on your best, most cost-effective options and our expert, friendly team are happy to discuss your turret punching requirements. Our turret punching facilities are available for a diverse range of applications, so contact us today and discover the difference that our highly skilled team can make.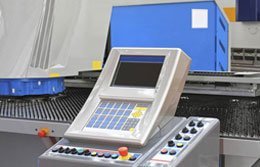 Image2Punch
Image2Punch is an innovative software suite that facilitates the digitally controlled perforation of sheet metal to produce stunning 3D images. The product is used in conjunction with machines such as our CNC turret punch to produce an almost limitless selection of possible images and designs.
Some of the applications of Image2Punch include:
Architectural products
Agricultural equipment
Cabinet-making products
Signage and advertisement projects
Lighting decoration and art image sculpturing
Metal cladding imaging
Decorative and artistic perforated pattern partitions and screens
From metal furniture to decorative metalwork, Image2Punch can provide some stunning results. Combined with the accuracy and quality of our CNC turret punch machine, the Image2Punch will exceed your expectations in both the quality of finish and its aesthetic appeal.
Contact us today to find out more about this exciting and innovative product, and discover just how effective it can be. Give us a call and discover for yourself why our customers return to us again and again for all their metal fabrication and manufacturing requirements.
Call us now on 08 9248 8888 for a free no-obligation quote.