Metal Perforating
A perforated metal sheet is sheet metal with a series of holes or patterns punched into it by a machine. Commonly made from steel and aluminium, perforated sheet metal has a wide range of uses and applications.
Here at Acorn Metal our focus is on creating high-quality designs for our customers, which we do by offering a huge variety of perforated patterns to choose from. Our precise machinery can punch up to 3mm thick, meaning we can create perforated metal sheets for any requirement. From practical functions to decorative displays, there are unlimited ways in which perforated metal can be put to use:
Sound Proofing
Perforated metal can be a visually pleasing answer to those acoustic problems. Adding a layer of punched sheet metal to a room can help to scatter, absorb, or reflect sound and cut out certain frequencies, depending on the requirement. It's commonly used for effective noise control in offices, leisure centres, as well as stadiums and loud industrial environments.
Filtration
Perforated metal filtration is a strong and effective way to keep your systems clean, with high quality products built to withstand the pressure. Utilise filtering screens, tubes, and strainers to create cleaner air with exhaust systems, strain certain fluids and gases with dewatering filters, and keep debris out of unwanted places in machinery. All industries, automotive to mining, have a need for perforated metal filtration products.
Lighting fixtures
The perfect way to reduce the glare from a light source is to install a stylish perforated metal light cover or diffuser. They control the direction and quantity of light emitted while still allowing ventilation in an aesthetically pleasing way. With a massive selection of patterns to choose from, creating your unique lighting fixture is easy with Acorn Metal.
Decorative use in homes
Thanks to its lightweight yet durable qualities, perforated sheet metal designs are a perfect addition to your home. As sheet metal can take on any shape it has unlimited uses on walls, ceilings and floors. Choose a custom privacy screen, light fixture, stairwell, or seat with a unique sheet metal design pattern that will provide ventilation, as well as sound absorption.
Security
By using quality materials like stainless steel to create perforated sheet metal designs, Acorn Metal can guarantee the durability and longevity of its security focused products for doors, walls and ceilings. Metal screens and guards become aesthetically pleasing with a unique perforated design, and can divide up space while still allowing air, light, and sound to carry through.
Pharmaceutical/ Medical
The healthcare and scientific industries have high standards, and require precise designs made from quality materials; from storage of products small and large, to container trays and pans, as well as room organisation with racks and cabinets. The options are endless.
Acorn Metal Products
Here at Acorn Metal our highly skilled team is on hand to combine their wealth of experience with the latest technology to create custom perforated sheet metal designs for each of our customers. Our large machines can do long lengths, up to 1500mm wide, and come in a huge range of patterns. From CNC Turret Punching to the digital solution of Image2punch, we have the modern solution to your needs. So if you want to learn more about how Acorn Metal can provide a lightweight, durable solution to your problem, read about it here!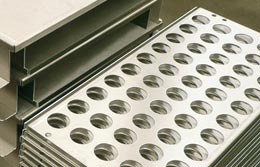 CNC Turret Punching
If you are looking for expert, high-speed turret punching services for a wide range of manufactured products, you are in the right place with the team here at Acorn Metal Products. Our Finn-Power CNC turret punches produce high speed and accurate repetitive metal punching for quality and precision components.
We have a large range of tooling options and further specialised tooling can be obtained to punch and form to your specific requirements if necessary. We have invested in the best tools, equipment, and resources to ensure that your products are made to the highest possible standards of workmanship and finish.
With capacities of 3000mm x 1500mm, up to 5mm gauge sheet size in Aluminium and 3mm gauge sheet size in Mild and Stainless Steel, we have the facilities that your project needs.
We can advise you on your best, most cost-effective options and our expert, friendly team are happy to discuss your turret punching requirements. Our turret punching facilities are available for a diverse range of applications, so contact us today and discover the difference that our highly skilled team can make.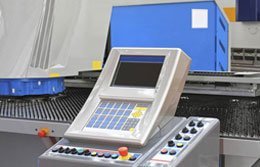 Image2Punch
Image2Punch is an innovative software suite that facilitates the digitally controlled perforation of sheet metal to produce stunning 3D images. The product is used in conjunction with machines such as our CNC turret punch to produce an almost limitless selection of possible images and designs.
Some of the applications of Image2Punch include:
Architectural products
Agricultural equipment
Cabinet-making products
Signage and advertisement projects
Lighting decoration and art image sculpturing
Metal cladding imaging
Decorative and artistic perforated pattern partitions and screens
From metal furniture to decorative metalwork, Image2Punch can provide some stunning results. Combined with the accuracy and quality of our CNC turret punch machine, the Image2Punch will exceed your expectations in both the quality of finish and its aesthetic appeal.
Contact us today to find out more about this exciting and innovative product, and discover just how effective it can be. Give us a call and discover for yourself why our customers return to us again and again for all their metal fabrication and manufacturing requirements.
Call us now on 08 9248 8888 for a free no-obligation quote.