Acorn Metal recently undertook an exciting project to manufacture a series of lock stations from scratch. With our expertise in custom metalwork and fabrication, we skilfully crafted these essential security solutions, ensuring a seamless process from start to finish. Let's delve into the intricacies of this project and each of the services utilised to bring these innovative structures to life.
Designing and Manufacturing Excellence
Acorn Metal's team of experts fully manufactured the lock stations, meticulously overseeing each step of the process. The lock stations are specialised structures designed to securely house multiple locks and key compartments, providing a central access point for easy management and organisation. Acorn Metal's commitment to precise design and engineering ensured that these lock stations met the exact requirements of the project, guaranteeing optimal functionality and aesthetic appeal.
View the assembly breakdown here
Turret Punching for Precision Perforation
To achieve the desired patterns and perforations on the lock stations, our fabricators employed the expertise of turret punching. This advanced technique utilises CNC technology to accurately perforate metal sheets to specific requirements, creating precise and intricate designs. By leveraging the versatility of turret punching, Acorn Metal achieved seamless integration between form and function.
Surface Etching and Powder Coating for Protection
Prior to assembly, Acorn Metal performed surface etching on the metal sheets. This process prepared the surfaces for the subsequent powder coating, ensuring enhanced durability and protection against corrosion, abrasion, and other external factors. We created lock stations with a resilient finish, capable of withstanding even the harshest weather conditions.
Metal Bending and Welding for Structural Integrity
To transform the metal sheets into the desired lock station components, Acorn Metal utilised the technique of metal bending. This process involved shaping and forming the metal to precise specifications, facilitating easy assembly and integration of the lock station's various elements. Skilled craftsmen employed welding and grinding techniques to connect the individual pieces, ensuring the structural integrity and strength of the lock stations. Acorn Metal's commitment to meticulous craftsmanship was evident in the flawless execution of these crucial steps.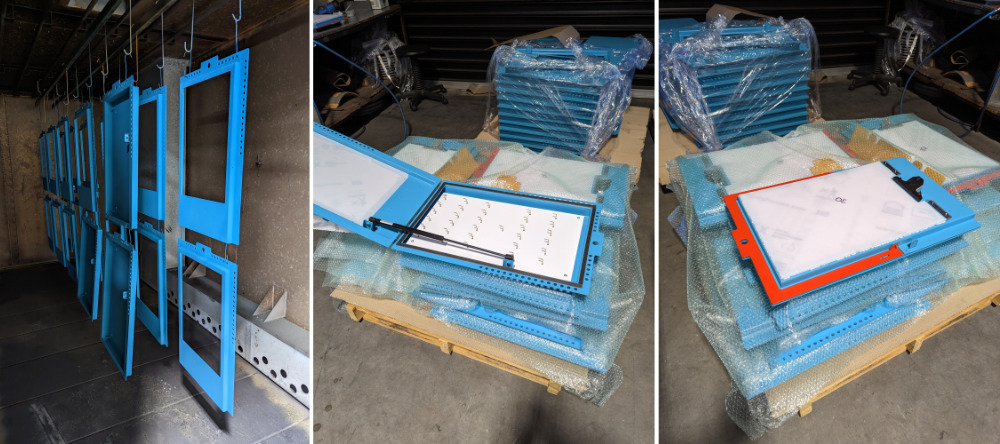 The completion of the lock station project by Acorn Metal stands as a testament to their expertise in custom metalwork and fabrication. Combining our expert services, we brought these security solutions to life, seamlessly blending functionality, durability, and visual appeal. Whether it's a lock station project or any other custom metal fabrication need, Acorn Metal continues to be the trusted partner for custom metal fabrication in Perth. Contact us today to find out more.