Here at Acorn Metal, we understand that a unique, modern brand needs an impressive retail unit to match. We love working with businesses of all sizes to help them transform their brand artwork and designs into 3D components that not only serve practical purposes but represent their desired look and feel. One immensely successful case of this was when we worked with the Boba Bear drinks company to build a new shop fit-out, transforming their brand designs into physical elements that really made the inside of their store feel exciting and new. In this case, we used our sheet punching technology to bring their vision to life via perforated metal sheets.
Helping outfit the Boba Bear Shop
Boba Bear is a delicious boba tea and dessert company with a huge following here in Australia, and their modern brand and tasty goals needed a new retail shop to match. For this project, we worked closely with Malaga Metal Industries who were brought on board to do the steelwork for this particular shop fit-out, and we joined the process to deliver exceptional perforated metal designs to add flair to the steel components that matched the Boba Bear brand. 
Creating metal artwork
With top quality sheet punching machinery ready to go in our Perth workshop, we are asked to be involved in all stages of perforated metal projects across many industries. For this Boba bear shop fit-out project there was only 2D artwork imagery to choose from, and so we had to transform these designs into a perforated metal version that would work well in store. To do this we utilised our Image2Punch technology, an incredibly innovative software suite that allows us to digitally transfer a design into a 3D perforated metal product. Along with our CNC turret punching equipment we delivered this project successfully to a tight deadline.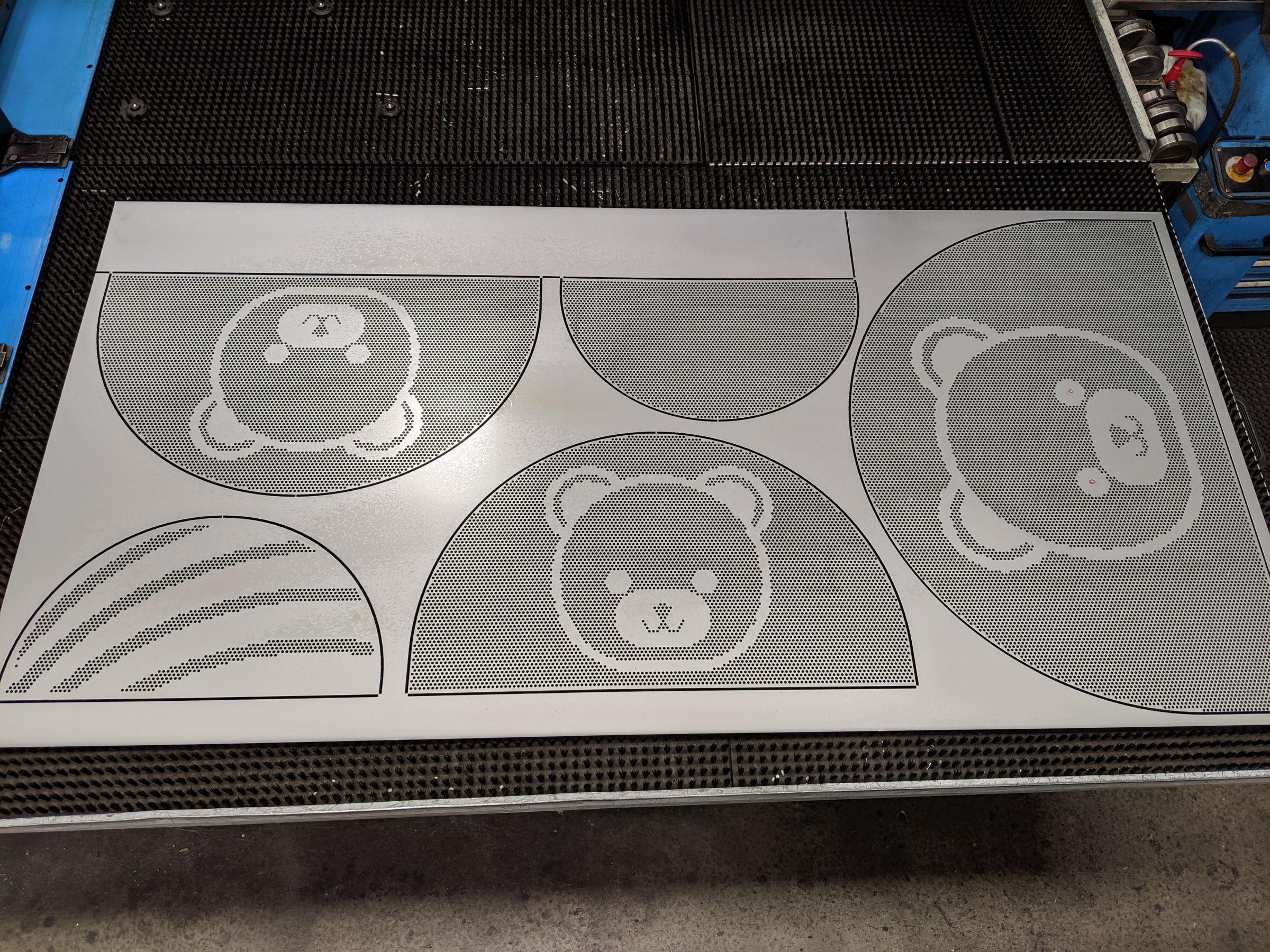 Original sheet punching designs  
For the experienced team here at Acorn Metal, transforming a design to a perforated style is all in a day's work. However, most projects come with their own unique set of challenges, and in this case, we had a very tight deadline to meet while coordinating our sheet punching production stages alongside the steel manufacturers timeline. Having top quality turret punching machinery and modern technology for creating perforated metal designs using Image2Punch meant we not only met the deadline but exceeded our clients' expectations. We have since completed two other Boba bear store fit-outs since. 
Acorn Metals Extensive Portfolio
When it comes to combining creative elements with top quality metal products, the team here at Acorn Metals knows exactly how to deliver. Having worked on complicated projects across a wide range of industries, we are pros at combining our expertise with efficient machinery to create the exact perforated metal designs you require. For more information on our sheet punching services, or to learn more about our highly accurate Image2Punch software, contact us today on 08 9248 8888.