With years of experience and a talented team of fabricators, Acorn Metal Products are used to producing captivating pieces for a huge range of clients. No job is too small and we are always excited to try out new things and new techniques to create innovative products for our clients. Recently Humphrey Homes approached us looking for a large decorative aluminium cladding project. This was a massive project with a beautiful end result that all parties were pleased with.
Design and Sampling Phase
Dean from Humphrey Homes approached us with the scope of the idea and what would be needed from us. We sat down and went through all of our options as well as any pertinent limitations with the job at hand. In the end, we decided on custom tooling so we could achieve the desired pattern. This tooling was designed to fulfil the necessary specifications and brought to life. 
During this phase of the process, samples were produced to ensure that the quality of the final product was up to the standard of the client. After the samples received approval countless hours of programming was undertaken to generate the panels. 
Turret Punching The Panels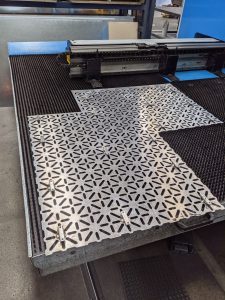 Our CNC machines that employ turret punching techniques were used during this phase of the project. Each different pattern was programmed into the software that would tell the turret punching machines where to make the holes. Ultimately 71 unique panels were programmed and subsequently created via our CNC machines. Our experienced team took countless hours of work programming each patten and ensuring each panel was perforated correctly.
Creating the Final Piece and Surface Finishing
All the panels were manufactured using 2.5mm 5005 aluminium. These panels were perforating using our range of high-tech machinery and we then had to use our sheet metal bending machines to bend the panels into shapes that connect with one another. The bending created mounting fixtures to make it easier to install the panels and connect them together. These mounting fixtures were welded together and then it was time for surface finishing. Powder coating was undertaken to ensure the finished product was durable and aesthetically pleasing. This was done externally.
We now had 71 unique panels each with its own specific pattern of perforated holes made by our CNC turret punch machine. These panels were bent to create mounting fixtures and welded together. After being externally powder coated the piece was ready for installation. This was a relatively quick and easy process and the client loved the final product!