Flue Rolling, Metal Crimping and Other Sheet Metal Rolling Services
Acorn Metal Products can provide a wide range of sheet metal rolling and metal crimping services for flue manufacturing. From little rollings on light gauge materials to heavy rolling on larger materials, from easy sheet metal sections to complex larger shapes there is nothing we can't do for our customers.
Our talented and experienced team use Industry-leading sheet metal rolling and metal crimping procedures. We have a large number of machines that can handle a wide variety of tasks. We carry the latest metal rolling machinery in-house, including a cutting-edge CNC de-coiler. As a result, when it comes to versatility and efficiency, we have no shortage. We can achieve a quick turnaround while adhering to tight tolerances.
Our sheet metal rolling and metal crimping services can be carried out to create a variety of circular, conical, and elliptical shapes with ease and precision. Our skilled operators are capable of working with a huge variety of materials, including mild steel, stainless steel, and aluminium.
Our metal rolling and metal crimping services also offer a high degree of process automation which means you can be assured of the utmost accuracy with every project we complete.
CNC Controlled De-Coiler
The team here at Acorn Metal Products work our way through a huge amount of raw materials in the process of providing the fabrication requirements of our discerning clients. Much of our raw material is produced as either flat sheets or wound onto rolls at the point of manufacture, to facilitate ease of storage and economical transport.
The Benefits of our CNC Controlled De-Coiler
As with all our modern and efficient equipment, our CNC de-coiler represents our commitment to investing in the latest machinery. The use of computer numerical control (CNC) enables us to supply the other phases of your sheet metal rolling or other fabrication processes with the precise amount of raw materials needed. Our state-of-the-art Forstner CNC controlled de-coiler can handle materials up to 1220mm in width and 1.2mm in thickness.
Contact our helpful and friendly team of fabricators today to discuss how CNC controlled de-coiling can enhance the efficiency of your sheet metal rolling project – because the time saved equals money saved! Increased efficiency through the use of such methods is just one more way that we can ensure that your requirements are met within our agreed timeframe and budget.
                          
Metal Crimping
We offer metal crimping services for metal products with a thickness of 0.42 to 1mm. As with all our expert processes, our metal crimping is carried out with the utmost accuracy and precision to ensure that your crimped products are a perfect fit every time.
Metal crimping is a simple process for enhancing the fit of metal parts that need to be joined together using a tight (interference) fit, often in the absence of other jointing adhesives or jointing compounds. Our equipment can take care of small batches or larger production runs of products that require crimping for any purpose.
Talk to the experts here at Acorn Metal Products today to ascertain the suitability of metal crimping or sheet metal rolling as a cost-effective option for your products or fabricated components. Our services are both efficient and effective for a wide range of product applications. Whatever you need, we have the equipment and expertise to see your project through to its successful and profitable conclusion.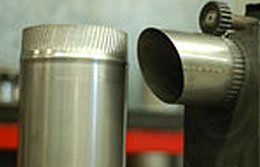 Call us now on 08 9248 8888 for the full details of our sheet metal rolling and metal crimping services and how they can benefit your products.